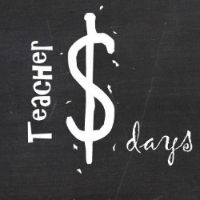 Today I'm linking up with
A Teacher Without A Class
for the Teacher Dollar Days linky party. Unfortunately I've been super crazy busy so far this summer and haven't had the chance to hit the dollar store yet (I really want to because a new one opened up 10 minutes from my house), but I do have one dollar find (technically its a 79 cent find) to share, AND a product from my TpT store to share too!
My dollar find was at Hobby Lobby and it was this wooden door hangar that they are selling for 0.79 each!
grow legs and disappear
mysteriously get lost. I also already made a sign for my door with one of them for when my kiddos are testing. Here is how it turned out...
here
. I'm sure there are other uses I will find for these door hangars in my room, so I'm probably going to go back to Hobby Lobby and pick up a few more to have on hand.
Now for my TpT Store item... I'm pretty new as far as being a seller on TpT (my store has a whole 3 items, lol), but I thought I would share one with you that I am selling for $1.00. It's a Welcome banner, and I actually had alot of fun making it. Here's the cover sheet for the download if you want to get an idea of what the banner looks like....
I looove blues and greens, hence the color palate I went with, but I am planning to make a few more in different color schemes in the near future. You can check out this banner and my other items in my TpT store by clicking
here
, or by clicking the button on the right side of my blog.
Well...that's about all I have for this week's Dollar Days. I'm sure I'll have a new find for next time. Until then, be sure to head over to
A Teacher Without A Class
and check out all the other posts!