So now that I'm officially doing the whole teacher blog thing, I thought it would be fun to join in to one of the linky parties I've seen. The awesome blogs Fun in Room 4B and Ladybug's Teacher Files are hosting a summer long organization linky party. Hopefully I'll have enough ideas and creativity to participate throughout the summer.
I do however, have an organizational idea to share for this weeks party, and while I'm sure there are some more seasoned teachers out there that have thought of this idea, my newbie self am quite proud of what I've come up with lol. So, without further ado, I give you my Reproducible/Blackline Binders...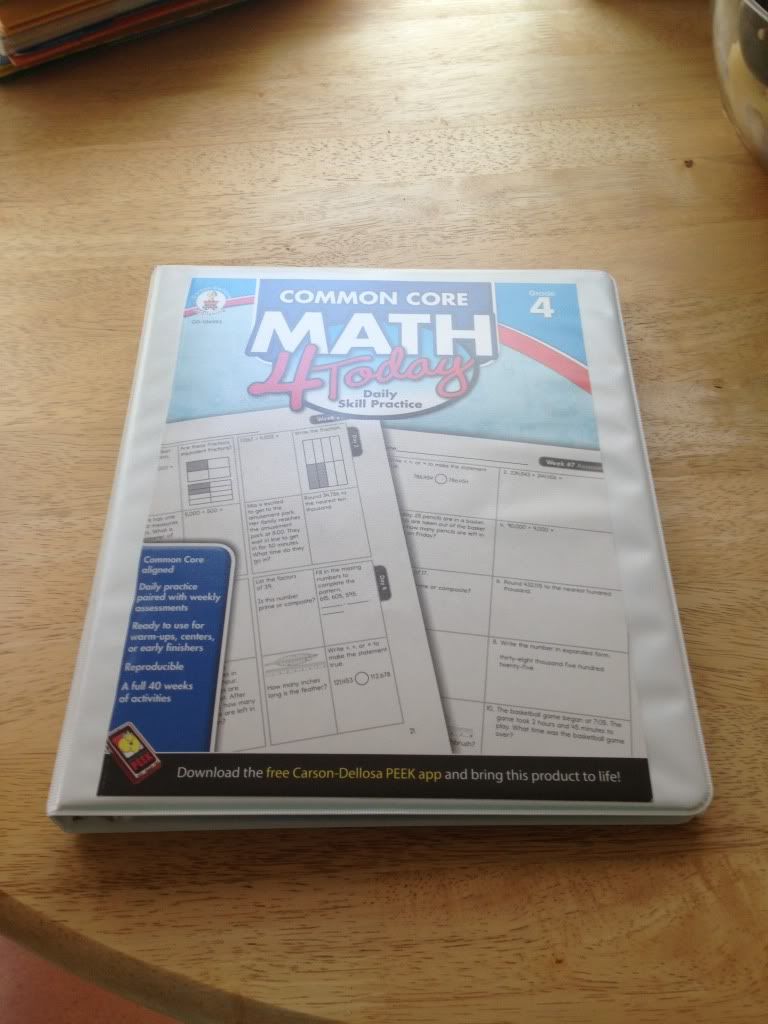 My finished reproducible binder for my Daily Math Skills book.
Even though the 2012-2013 year is barely over (thankfully because subbing at the end of the year can be pure torture when the teachers stop caring enough to leave me lesson plans), I'm already hunting and gathering things for my classroom for next year. I plan on having morning work for my students next year, and wanted to find some resources to pull from for it. I found a few reproducible books which would be great, and focus on the things my students will need the most practice/reinforcement with.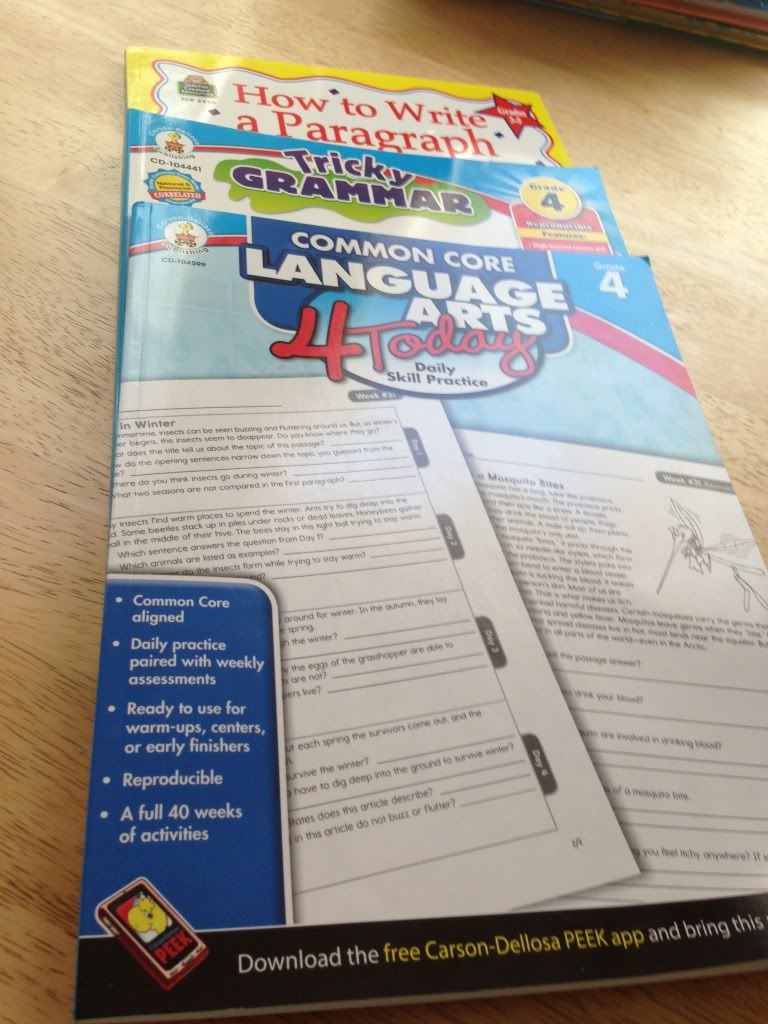 More books I still have to put into binders...
Now I know from experience when I was an assistant teacher (read gopher, copy girl, general all around minion) in New York, that as awesome as these books are, they tend to fall apart relatively quickly when they are books you make copies from on a frequent basis. Pages end up falling out, getting lost, and that just makes me sad when I've spent my hard earned dollars and now don't have all the things I need and have to go out and buy a new copy of the book. So I said to myself, Self... there has to be a way to keep these books from completely falling to pieces. Short of wrapping them in bubble wrap, the best answer I came up with was using a binder. There are a few benefits to using the binders too... it makes everything look neat when it stacked on my bookshelf, and the reproducible sheets themselves stay nice and neat and clean (especially when a student accidentally knocks into your desk where your books are and spills your coffee).
The binders are relatively easy enough to put together, just get an appropriately sized binder (I used 1/2 in. binders for mine) and some page protectors, and then remove the sheets from the book.
Binder + Sheep Protectors = awesome organization
It's super easy when the pages are perforated since they tear right out, but if they aren't, just get an xacto knife and a ruler to help you remove the pages neatly. Then after the pages were loaded, I too the book cover and slid it into the cover pocket of the binder and used some cardstock with the book title printed on it for the spine pocket of the binder. Now all I'll have to do is pull the sheets I need copies of each day/week.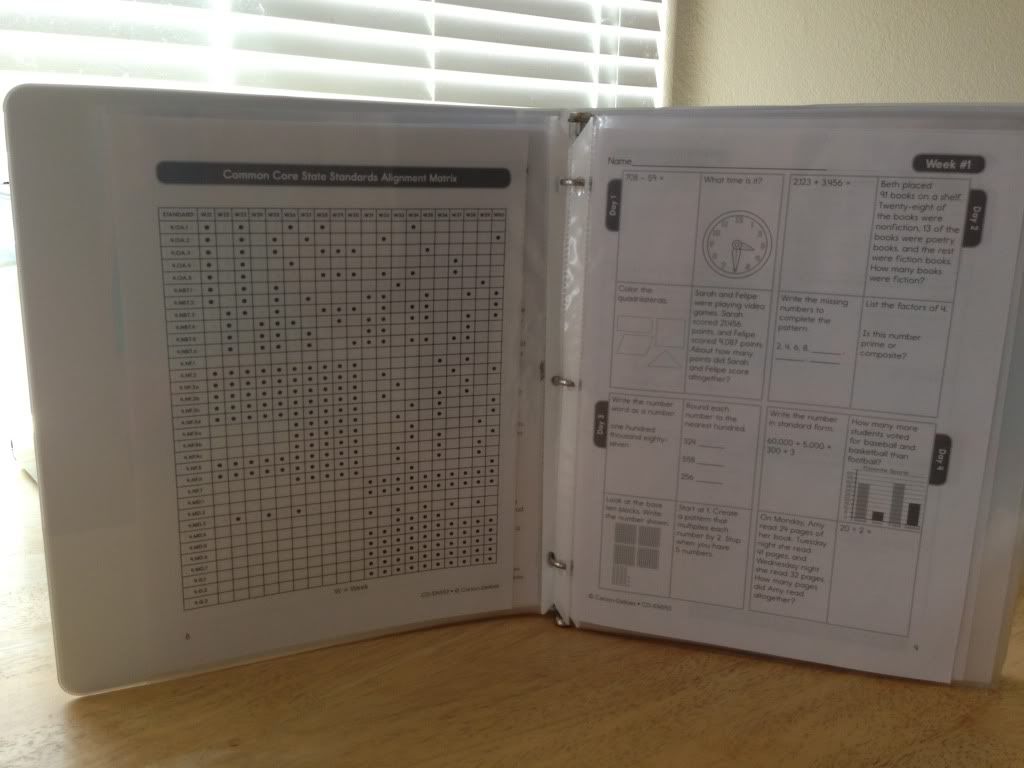 Inside the binders....look at those pages all ready and waiting to be copied.
Also, if you are short on space, you could do the same thing with one big binder and get those tab divider things and separate each book you put in there that way.
I hope some of you found this helpful. How do you all organize your reproducibles? Be sure to head over to Fun in Room 4B and check out all of the other awesome links in this weeks party. I know I'll be heading over there as soon as I finished this post to see the other great ideas that everyone is sharing.
Head to Fun in Room 4B here: